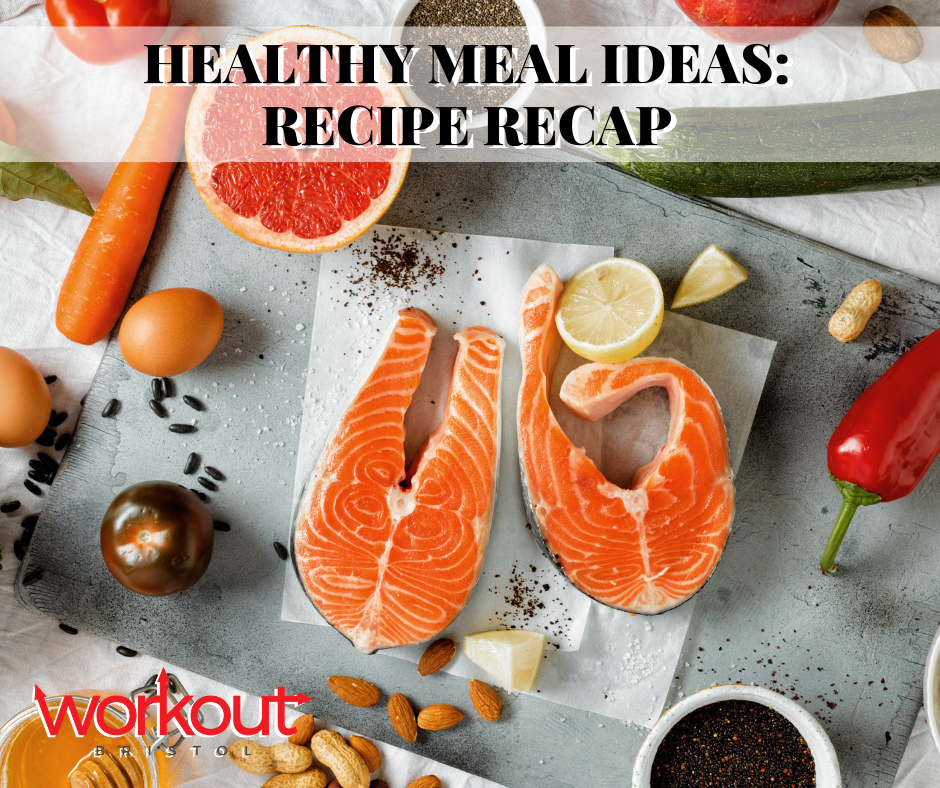 Healthy Meal Ideas: Recipe Recap
Over the last few months, we've been posting a weekly recipe to our Instagram stories. That series has been reasonably popular - thanks for your lovely feedback - so we've also started to incorporate the weekly recipes into our Member Newsletter. If you're not already signed up for the emails, make sure to log into your Workout Bristol account and update those email preferences!
Even if email newsletters aren't your thing, not to worry. We'll be covering our top 3 most popular recipes in this blog post!
HAPPY COOKING!
---
SWEET POTATO SNACKING BREAD
This delicious twist on your traditional banana bread will take 10 minutes to prepare, and 60 minutes to bake. Yield: 1 loaf of bread.
INGREDIENTS
275g white flour
200g white sugar (for lower-sugar recipe, less is fine as well)
120ml coconut oil, melted
80ml water
200g sweet potatoes, cooked and mashed (about 2.5-3 medium sized sweet potatoes)
2 eggs
1 tsp baking soda
1 tsp ground cinnamon
1 tsp ground nutmeg
1/2 tsp salt
(optional) 75g chopped pecans
INSTRUCTIONS
Preheat oven to 175C.
Combine sugar and melted coconut oil in a large bowl.
Mix well, then add eggs and continue mixing until blended.
Next, combine the flour, baking soda, cinnamon, nutmeg, and salt in a medium bowl.
Stir the flour mixture into the egg mixture, alternating with the water.
Once mixed, stir in the cooked and mashed sweet potatoes, then finally, the chopped nuts.
Pour batter into a greased loaf tin and bake for 60 minutes.
---
AGUAS FRESCAS
Perfect for the warm summer weather. We're a big fan of this recipe because Aguas Frescas can be served unfiltered, unlike many fresh juices. So, you're sipping up all that nutritious fruit fiber, rather than filtering it out. Also, bonus points: NO FANCY JUICER REQUIRED!
The recipe below will take just 10 minutes, and make 1 serving. Feel free to multiply as needed!
INGREDIENTS
1 cup roughly chopped fruit - we recommend pineapple, hulled strawberries, peeled cucumber, honeydew melon, cantaloupe, or watermelon
1 cup water
1/2 medium lime, juiced
1 tsp agave nectar, honey, or other sweetener of your choice - if your fruit is perfectly ripe and sweet, you may not need sweetener at all
(optional) 2 large mint leaves
INSTRUCTIONS
In a high-power blender, combine fruit, water, lime juice, sweetener, and optional mint leaves.
Blend on high power until smooth.
Taste, and, if necessary, add more lime and/or sweetener, then blend briefly again.
Serve immediately over ice. Enjoy!
---
SHAKSHUKA
Shakshuka, in it's simplest form, are poached (or steamed) eggs in freshly made tomato sauce. Originating in Northern Africa, it's a great one-pot dish that has become a staple in many Middle-Eastern cuisines as well. Shakshuka is usually cooked in a cast iron pan, set down on the table and served with bread to mop up the juices. This delicious breakfast dish also fares well for lunch or dinner, takes 10 minutes to prep, and about 20-25 minutes to cook. It serves 6 people.
INGREDIENTS
1 medium onion, diced
2 bell peppers (any colour), seeded and diced
1 can (400-500 grams) whole peeled tomatoes
6 large eggs
4 garlic cloves, finely chopped
2 tsp paprika
1 tsp cumin
1/2 tsp chili powder, plus additional if desired
salt and pepper, to taste
generous pour of olive oil
small bunches or parsley and coriander, chopped
INSTRUCTIONS
Heat olive oil in a large sauté pan on medium-high heat.
Add the chopped bell peppers and onion, then cook for about 5-7 minutes, or until the onion becomes translucent.
Stir in the garlic and spices and cook for an additional minute.
Add the can of whole peeled tomatoes (including the juice), and break down the tomatoes using a large wooden spoon.
Season the sauce with salt and pepper and slowly bring to a simmer (low to medium heat).
Use the spoon to make small wells in the tomato sauce, then crack an egg into each well.
Cover the pan and cook for 5-8 minutes, or until the eggs are poached to your liking. Finally, garnish the dish with your chopped cilantro and parsley.
We can also recommend serving this dish with toasted sourdough bread, sliced avocado, and/or topping it with crumbled feta or goat cheese.