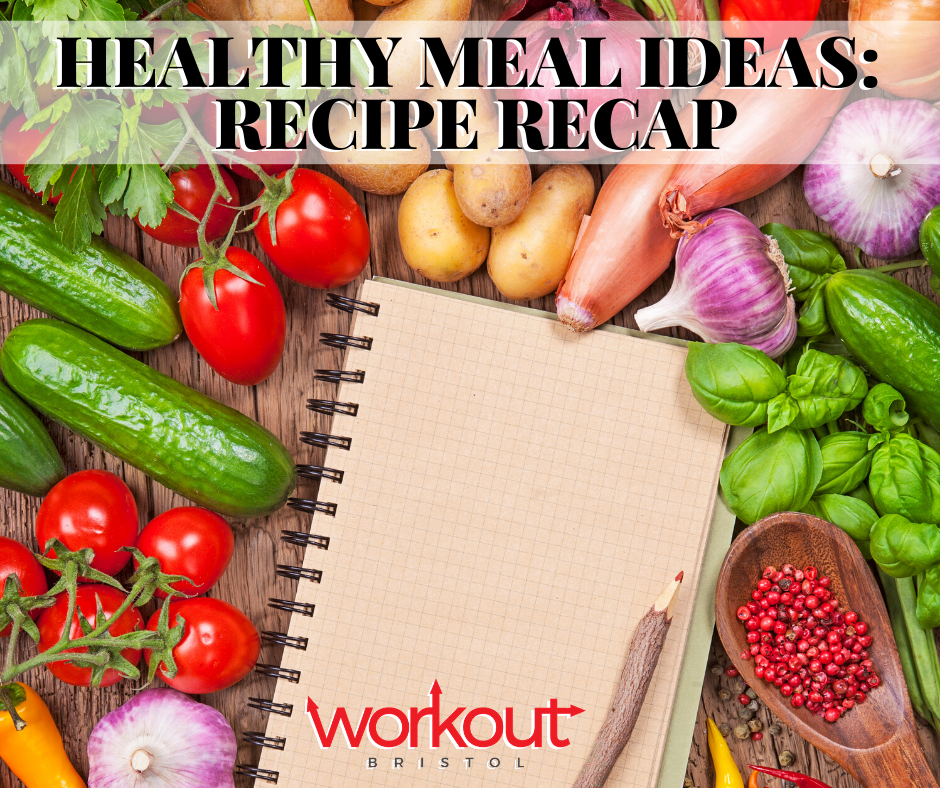 Recipe Recap
HAPPY FRIDAY!
End of the week have you in a meal prep/cooking funk? Out of recipe ideas? Don't worry - we have you covered this weekend...
This week on the blog: we're recapping a few of our most popular recent recipes in the #HealthyMealIdeas Instagram series!
---
SHRIMP TACOS WITH HOMEMADE SALSA
Tacos have become an increasingly popular staple in many households. Pile on the delicious (and nutritious) toppings and you've got yourself a wonderful weekday meal... with leftovers for lunch the next day... if you're lucky! This recipe takes just 20 minutes, and will happily serve your family of 4.
INGREDIENTS
1 pound shrimp, peeled and deveined
1 cup diced mango
1/2 red onion, finely chopped
1/2 red bell pepper, diced
1 tsp garlic powder
1/2 tsp paprika
1/2 tsp cumin
Sprinkle of sea salt
4 tsp lime juice
2 tbsp extra virgin olive oil
6-8 small corn tortillas
Purple cabbage, shredded
Any additional toppings you desire (optional)
INSTRUCTIONS
Start by mixing together the diced mango, red onion, and red bell pepper.
Season with some fresh cilantro (if desired), a pinch of salt, and 2 tbsp lime juice.
Set aside - this will serve as our delicious mango salsa topping.
In a large skillet, heat 2 tbsp of extra virgin olive oil over medium heat.
Mix together paprika, garlic powder, cumin, and salt, then coat the shrimp evenly on both sides.
Lightly sauté for 1-2 minutes, flipping halfway through when the shrimp are pink and curled up.
Once finished, transfer to a plate and top with lime juice.
Assemble the corn tortillas with a base of shredded purple cabbage, top with mango salsa, shrimp, and any other toppings of your choice.
We like to serve these with a bit of greek yogurt - mixed with lime juice, garlic powder, a pinch of salt, and fresh cilantro!
---
SPRING GREENS RISOTTO
We'd highly recommend you try this easy, delicious, and nutritious risotto recipe! It's lower cal than most traditional (cheese heavy) risotto recipes, veggie-forward, and can be amended to include all sorts of tasty flavour combinations. For example, you can try adding some seafood, meat, or even Tofu! Just about 30 minutes to whip up a delicious dish that serves 4.
INGREDIENTS
250g arborio risotto rice
800ml vegetable stock
75g low fat soft cheese
200g thick cut spring greens
1 onion, chopped
2-3 sticks celery, thiny sliced
1 clove garlic, crushed
1 tbsp extra virgin olive oil
Instructions
Heat the olive oil in a large, deep frying pan.
Fry the onion, celery, and garlic for about 3-5 minutes.
Add the arborio rice and cook for another minute or two.
Next, gradually pour in the stock, cover the pan, and cook gently for about 15 minutes.
Stir in the soft cheese, as well as the spring greens, then cook for another 5-10 minutes, or until the rice is tender.
Season to taste with any additional spices you prefer.
---
FLUFFY BANANA PANCAKES
You've probably heard of using up your ripe bananas to make banana bread... but don't forget that they can be used to make delicious, fluffy, perfect banana pancakes too!
Just 10 minutes prep time and 15 minutes cook time; you'll have a delicious breakfast for 4 to 6 (depending on how hungry you are) in no time!
INGREDIENTS
125g plain flour
225ml semi-skimmed milk
2 tbsp coconut oil
1 tbsp caster sugar
2 tsp baking powder
1/2 tsp salt
2 ripe bananas, mashed
INSTRUCTIONS
Combine flour, sugar, baking powder, and salt.
In a separate bowl, mix together egg, milk, oil, and bananas.
Stir the flour mixture into the banana mixture. Don't worry - the batter might be lumpy.
Heat a lightly oiled frying pan over medium heat.
Scoop the batter onto the pan, using approximately 4 tbsp for each pancake.
Cook until the pancakes are golden brown on both sides.
---
SPICY NOODLE BOWLS
Just 10 minutes prep time and 15 minutes cook time, and you'll be ready to feed 4!
INGREDIENTS
300g medium wok noodles
250g lean pork mince, 5% fat
2 carrots, peeled into ribbons
1/2 cucumber, cut into half-moons
2 spring onions, sliced, plus extra to serve (optional)
4 radishes, sliced into rounds
3 tbsp olive oil
2 tbsp dark soy sauce
1 garlic clove, crushed
1/2 tsp crushed chillies
1 tsp clear honey
1 lime, juiced
INSTRUCTIONS
Put the noodles in a heatproof bowl and cover with boiling water. Leave to soak for at least 5 minutes, then drain well.
Meanwhile, heat 1 tbsp of olive oil in a frying pan over medium-high heat.
Add the pork mince and cook, stirring for 7 to 8 minutes, until the pork begins to brown.
Next, add the garlic and crushed chillies and stir fry for 1 minute, then add the honey.
Cook for 1 to 2 more minutes, until the pork is fully cooked.
Mix the soy sauce, lime juice, and remaining olive oil to make a dressing.
Next, mix the noodles with the carrot, cucumber, radish, and spring onion, then toss with the dressing.
Serve the noodles topped with the minced pork and a few sprinkles of chopped spring onions.
Enjoy this super speedy noodle salad - ready in just over 20 minutes! Crispy, delicious, healthy, and budget-friendly too!